Sonoma Media Investments was formed in late 2011 to buy the Sonoma Index-Tribune and Sonoma Magazine. In November 2012, the company purchased the Press Democrat Media Group, which includes The Press Democrat, the Petaluma Argus-Courier, the North Bay Business Journal and all affiliated websites and businesses.
To see information about each of the company's holdings, click here.
Sonoma Media Investments is led by a management team and an advisory board.
Darius Anderson
Managing Member
Darius Anderson is the Founder and CEO of Kenwood Investments, a California Opportunity Fund seeking new ventures to build upon the unique brand of California.
Darius is a talented political strategist who also understands the hard-charging working dynamics of big business and big government. He spearheaded a series of innovative ventures and private/public partnerships in the high-tech, real estate and retail fields. Currently, a key project is the Treasure Island Development Project, a $6 billion economic redevelopment of the former Naval Station Treasure Island located in the San Francisco Bay.
In addition, Darius Anderson is also the Founder and CEO of Platinum Advisors, a full-service government affairs firm that ranks in the top five of California government advocacy companies. With offices in Sacramento, Orange County and San Francisco, Platinum Advisors provides lobbying, real estate project development, procurement, public affairs and strategic consulting to corporations, governments, trade associations and non-profit groups.
Widely recognized as one of California's most effective political strategists and fundraisers, he continues his long streak of advising many of California's highest-ranking political and business leaders. In 2010, Darius was nominated to and joined California's Political Reform Act Task Force.
Between 1993 and 1998, Darius Anderson served as Chief of Staff for The Yucaipa Companies and as Vice President of External Affairs for Ralphs Grocery Stores, Inc., a Fortune 500 company. During that time, Darius was responsible for business development for The Yucaipa Companies, including property acquisition and development, and for government affairs, community relations, external corporate communications and public relations for Ralphs Grocery Stores. He also served as the Executive Director for the Ralphs/Food 4 Less Foundation.
Philanthropy is important to Darius, and he is involved in a variety of charitable activities. He is the Chair of the National Advisory Council at the Institute of Governmental Studies at University of California, Berkeley. Additionally, he serves on the Board of Directors of the George Washington University Graduate School of Public Management's Council on American Politics, Californians Building Bridges and the Sonoma Jazz Festival.
He is a passionate art collector and owns world-class collections of both baseball and Jack London memorabilia. Darius Anderson holds a Bachelor's degree in Communications from George Washington University in Washington, D.C.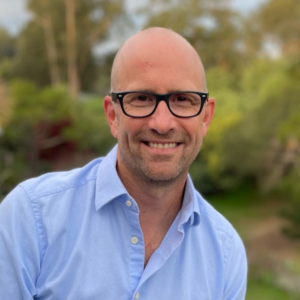 Eric Johnston
Chief Operating Officer
Eric's career in journalism began as a part-time sports photographer while still in high school, which then extended through and after earning his degree in Mass Communications and Journalism at CSU Fresno. Eric saw the coming digital transformation in the mid-90's and pivoted his focus to the burgeoning online space.  
As a self-taught web designer and engineer, he worked for the next 15 years to build audience, revenue and consumer adoption of the still-growing digital news environment. In 2009 Eric was named Publisher and President of The Modesto Bee and The Merced Sun-Star, McClatchy Company publications in California's Central Valley. Eric was the first Publisher in the 150-year history of the company to come from digital operations; during his tenure the publications leaned into digital audience and revenue growth – an emphasis that continues today. 
In 2014 Eric joined the Seattle-based Pioneer News Group as Chief Operating Officer, responsible for more than 24 publications and 500 employees across five northwest states. He was instrumental in leading a variety of projects for the company including overall improvements to digital platforms, audience and sales efforts, optimization of key functions such as news page design, customer service and ad design and fostering a culture of inclusivity, collaboration and diversity. 
Eric joined Sonoma Media investments in late 2022.  As a passionate and dedicated champion for the preservation of community publishers and journalism, Eric currently serves as a member of the Board of Directors for the California Press Foundation and lives in Sonoma County with his wife Susan.   
Bill Hooper
Chief Operating Officer
Bill Hooper started with Kenwood Investments in 2010 following a 26 year career with Clear Channel Outdoor. He started his career with Clear Channel's predecessor company Foster and Kleiser in 1983 as a real estate representative in San Francisco. After holding several divisional positions with the company including senior management positions in Los Angeles, San Diego, San Antonio and San Francisco, he was promoted to Executive Vice President for Real Estate and Government Affairs at the company's corporate office in Phoenix Arizona.
Bill is the former president of the California State Outdoor Advertising Association. He also served as a board member for the San Francisco and Oakland Chambers of Commerce, The Bay Area Council, Jr. Achievement of the Bay Area, the Outdoor Advertising Association of America, the Bay Area Society of Television, Advertising and Radio, the Sacramento Advertising Club, the San Leandro Chamber of Commerce and the Committee for a Drug Free California.
Bill is a graduate of California State University, Sacramento, and is married with two children.
Stephen Daniels
Chief Financial Officer
Douglas Bosco
General Counsel
Doug practices in the areas of regulatory and environmental law, legislation, and resource-related industries. His clients include California's largest land owners and insurers. He is Chairman of the State Coastal Conservancy, responsible for preservation of California's ocean, coastal and fishery resources.
Doug served in the California Legislature from 1978-1982, and the United States Congress from 1982-1990. His legislation included the California Wilderness Act of 1984, the California Wild and Scenic Rivers Act, the Klamath-Trinity Rivers Restoration Act, the California Renewable Resources Act, the Smith River National Recreation Area Act and other environmentally-oriented measures. In Congress, he served on the House Public Works and Transportation Committee, as well as the Foreign Affairs Committee.
Doug is a former member of the California Industrial Welfare Commission, with jurisdiction over state wages, labor standards and working conditions. He also served on the Judicial Nominations Committee named by former Governor Gray Davis. Prior to serving in the California Legislature, Doug was Director of the Marin County Human Affairs Department and Executive Director of the Marin County Housing Authority.
Darius Anderson
Chairman
(See biography higher up on page)
Bill Jasper
Bill Jasper is a member of the Board of Directors at Dolby Laboratories. Prior to his retirement as President and CEO of Dolby Laboratories in March 2009, he served as CFO. He led Dolby's transition from an analog audio pioneer to a digital entertainment company and oversaw the transition from an audio focus to expertise in both audio and video. Jasper is a member of the Audio Engineering Society, the Society of Motion Picture and Television Engineers, and an at-large member of the Academy of Motion Picture Arts and Sciences.
Norma Person
President of the Ernest L. and Ruth W. Finley Foundation, which has jump-started and supported institutions, including Santa Rosa's Finley Community Center, Redwood Empire Food Bank, Sonoma State University and Santa Rosa Memorial Hospital.
Person, who lives in Santa Rosa, is the widow of Evert Person, a leader in post-World War II Sonoma County and former publisher of The Press Democrat. He sold the newspaper to the New York Times Co. in 1985.
Her involvement in The Press Democrat purchase brings the deal a circular historical element. The Finley Foundation is named for Ernest Latimer Finley and his wife, Ruth. In 1895, Finley started the Evening Press newspaper and in 1897 he bought the Sonoma Democrat newspaper, creating The Press Democrat.
Jean Schulz
Schulz's late husband, Charles Schulz, created the "Peanuts" comic strip. Her philanthropic ventures have included SSU's high-tech Schulz Information Center, considered one of the state's top academic libraries.
Schulz, who has served as a volunteer with a range of organizations, also co-founded the Community Foundation of Sonoma County in 1983. The foundation manages hundreds of endowed charitable funds aimed at supporting area causes. She is chairwoman of the board of Charles Schulz Creative Associates and president of the board of the Charles M. Schulz Museum and Research Center.
Schulz lives in Santa Rosa.
Les Vadasz
A native of Hungary who was educated as an engineer at McGill University in Canada. He left Fairchild Semiconductor in 1968 to help found Intel Corp., now the world's largest semiconductor chip maker.
He retired in 2003 as Intel's executive vice president. A former board member of the company, he also was the founder and president of its investment unit, Intel Capital.
In 1997, he and his wife, Judy, founded the Vadasz Family Foundation. In the Sonoma Valley, the foundation has funded projects to blend science and English language development in elementary school classrooms, pre-school classes to teach English to Spanish-speaking students who live in poverty and an Intel-sponsored computer clubhouse at the Boys and Girls Club.
Sandy Weill
Sanford I. "Sandy" Weill is a banker, financier and philanthropist. He is a former chairman and chief executive of Citigroup. He served in those positions until October 1, 2003, and April 18, 2006, respectively.
He and his wife, Joan, arrived in Sonoma County in 2010, buying a 362-acre estate in the hills west of Sonoma. Last year, he gave $12 million to Sonoma State University — the largest gift in university history — that enabled the completion of the concert hall at the $145 million Green Music Center. That allowed SSU to fully open the music center after work had stalled. Weill also arranged a Mastercard sponsorship toward an outdoor pavilion at the music center.